T
his weekend I'm having guests over and I wanted to display a few things from my collection but my baby didn't allow me to do so. My decor remains only for a few minutes and after that, I find things lying here and there. All my centerpieces and knick knacks are still packed and lying in a carton :-(. I'm dying to see them and to take them out of that box.
But me being me I can't see my home in such a dull mood …..so I decided to go baby-proof decor :-))
H
ave a look……
Center table without any centerpiece or vase 🙁
How empty my center table looks……….to get a better overall look I kept a picture, a fish clock, and a vase made out of an ordinary glass bottle (filled blue color in it) with gerbera in it on the side table. This is how it's looking…and I'm a bit satisfied.
Kept in a corner so that lil' one can't reach there
My decor is always incomplete without Ganesha so here he is….
Sitting silently under the Croton
Not able to figure out where exactly he is…… have a closer look…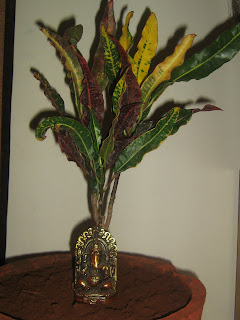 If you have some more nice and beautiful ideas for baby-proof decor then please share them with me…… all ideas are welcome.
Enjoy your weekend friends and stay creative!!!
Disha