O
kay!! So here I am with my teal bird cage.
You know what this lovely birdcage allows me to play with my creative imagination. I style it in various ways without the fear of going wrong.
It's so handy and aesthetically appealing that I can move it just about anywhere in my home and it sure adds the pizazz to the place. So far I have used it to decorate my
living room
,
home office
,
bedrooms
, and
balcony garden
too. That's not all, styling it with different stuff gives a totally different look every time and that's what I love about it.
Let's start with the living room and see how I used various decor objects to style this teal bird cage and you will find surprising outcomes every time. In the below picture, I wrapped fairy lights around the bird cage randomly, and to add a punch of color I placed tealights in bright colors and a blooming Kalanchoe that matches the tealight. What creates a calming effect here is this Buddha head that complements the teal bird cage beautifully.
Now if you wish to keep things simple and don't want to use lots of color then below image will surely win your heart. The object is same, I wrapped fairy lights around the bird cage in the same manner but this time instead of adding lots of color I used only shades of blue. Also, I paired the cage with healthy lush green Pothos. Wall shelves above this entire setting are sporting the knick-knacks in the accent color and some greens too.
Colors play a major role in creating an eye-pleasing display. If you carefully pick the colors to create a vignette then you sure are a winner. In below picture teal and fuchsia make a beautiful color combination.
Now I would like to shift your attention from colors to seasons. As we change our food and wardrobe according to the season we should also change the home decor to reflect the particular season. I am the kind of person who gets bored of the same look of a place easily so the change in seasons gives me the opportunity to give a makeover to my home too.
Let me ask, how would you style a cage in the monsoon? Did you say by placing candles inside it!! oh boy, you are my kind of person. I clubbed together aroma pillar candles in varied sizes on a shell platter and placed the cage above this arrangement and let me tell you the vignette was the conversation starter.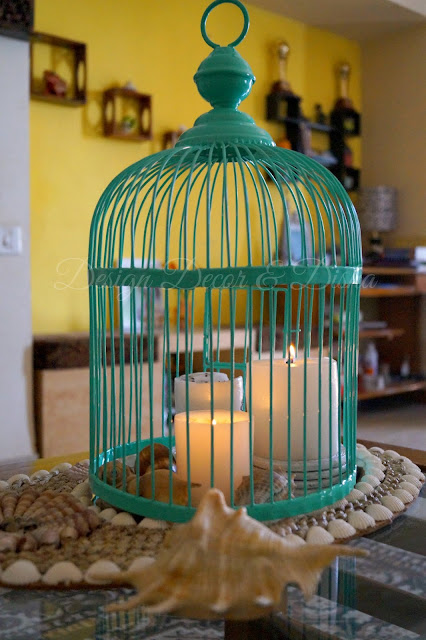 Now let's take a look at the other part of my living room where I usually hang Moroccan lamp but the idea of hanging the bird cage as pendant light clicked and there it hangs. It remained there for a while until I thought it should be on my coffee table.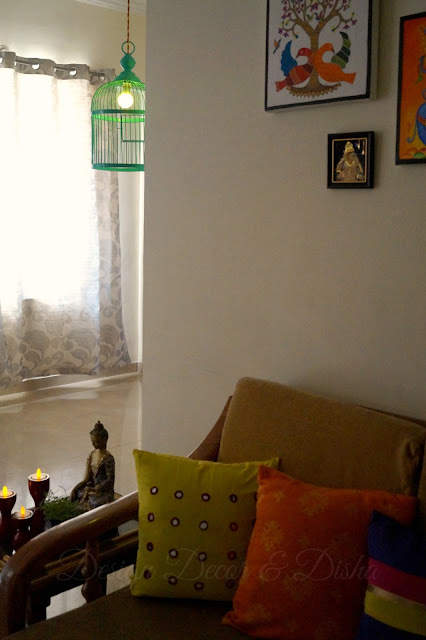 And there it is on my coffee table as it is in the company of a cheerful watering can with some greens. Color of it is just popping amidst all the yellows and orange. Sometimes I keep tiny planters inside it to add a little bit of drama.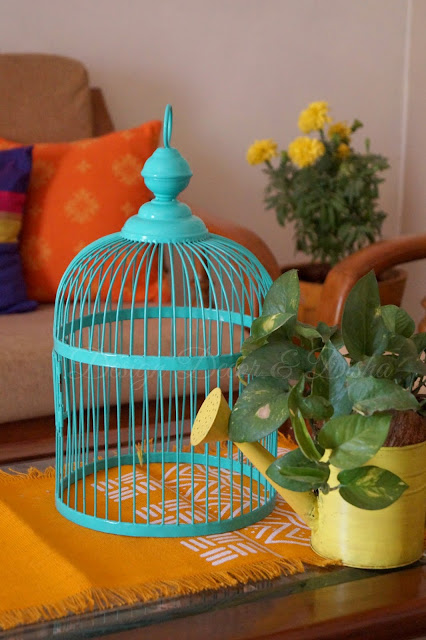 A wall in the guest bedroom is cobalt blue in color and sets a perfect background for this teal bird cage. What else can look more beautiful than strings of shiny white pearls against the striking color of the wall. Hence I loosely attached few strings of pearls on the birdcage and paired it with glass candle and aroma diffuser.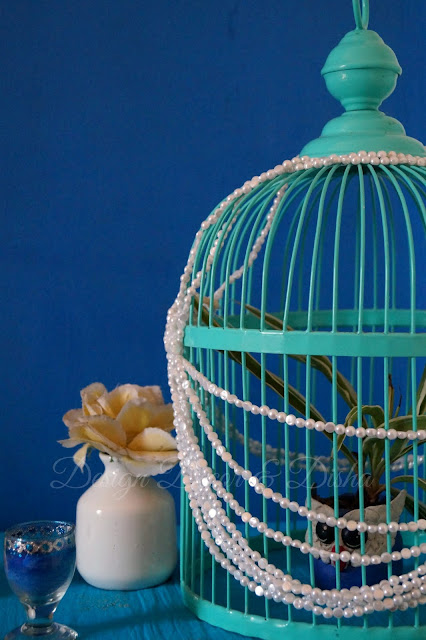 Now come step out onto my balcony and have a look how this simple birdcage can beautify the surroundings. Like I said, I keep changing the decor of my home according to the season the same way I love to change the look of my balcony garden quite often. So birdcage sometimes moves to the garden. Whether I place it over a pot or hang it in the garden, magic of it is always spellbinding.
Here is the colorful corner of my balcony garden. With painted pots and blooms in vivid colors it is always a treat to my senses to sit and have my evening cuppa here.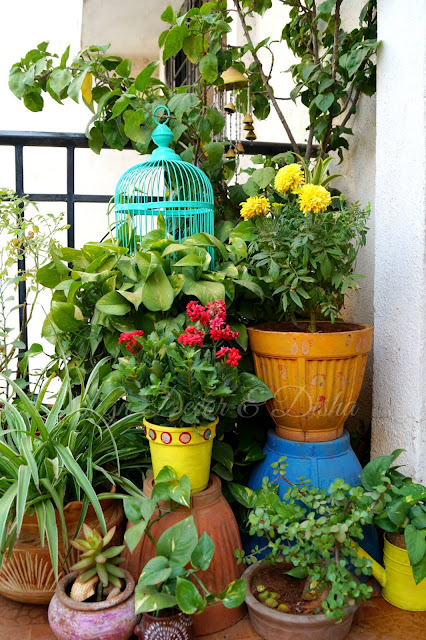 The beauty of this birdcage can't be described in words and through images. And moreover, I doubt my photography skills, I click hundreds of pictures and then realise that none of them is doing justice. Nonetheless, I am learning and inching towards perfection.
I know theses aren't the best birdcage styling tips, I just shared how I style my bird cage. Do you have a birdcage, please share a picture of it and let me know how do you style it. I would love to include it on my blog. You can share it on my
FB page
or
DM me on Instagram
.
Happy Decorating!!