The past
few months have been very busy and sometimes I didn't even get time to have breakfast. Poor me 🙁 I have got so many things to do and I am trying my best to accomplish them. As far as blogging is concerned
Dell's Venue
has been a great help for me. I get a few minutes when I go to pick up my son from school and wait for him to come out, so I just inserted a micro SIM card in the Venue tab, connected to the internet, and drafted this post.
As Diwali is approaching fast, what I can see on various websites is lots of beautiful, easy, and doable Diwali decor ideas. Some of my dear friends and fellow bloggers have shared really wonderful ideas and tips for Diwali decoration. Here I am sharing some of them. Let me add here that sharing is so easy with Venue. I just browsed their pages, saved images directly on my Venue tab, and linked with this post. It's that easy. Let's have a look at all those beautiful blogs: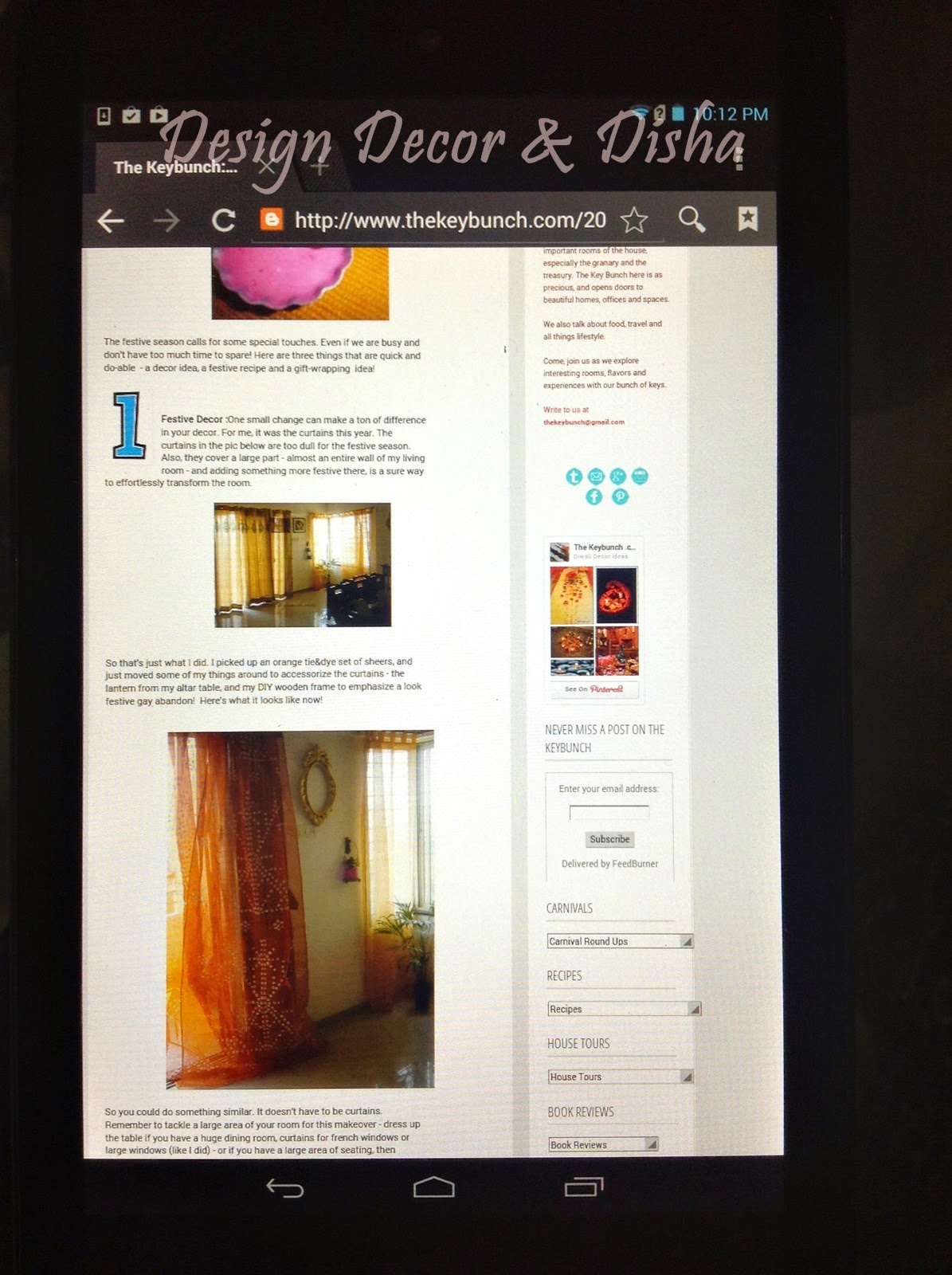 She has a lovely blog. In her own words, "
We LOVE our house and LOVE creating memories in it, It is all about
Cherishing 
yesterday, 
Dreaming
about tomorrow, and
Living
 for today.
Image Source: Cherish Dream Live
Sharon aptly gave her blog the name 'The KeyBunch' and I love it. She says "
I
 blog for myself – I am passionate about certain decor styles and ideas – I am passionate about antiques and old houses – I like a certain blend of the old and the new, and when I see that in a space, I get all excited about it, and blog about it.
Image Source: The KeyBunch
Sruthi has an awesome blog, loaded with beautiful images and inspirations. This is what she has to say about her blog "
I'm passionate about my home and everything relating to decor. I'd be sharing my style, snapshots from my home, along with the plethora of global decor inspiration waiting to be explored".
Image Source: The East Coast Desi
Reshma is a very warm person, beautiful inside and out. All her posts are very well written. In her own words, "
My blog is a space where I share my dreams with you. They may or may not be your dreams but I would be happy if every person who visits me here leaves with a smile so join me as I share snippets of my home, kids, decor, and garden, and at times I'll bore you with some photography too, so brace yourself 🙂
Image Source: Dreams Are Made Of These
Vandana Of Seasons In The Sun:
Vandana has just started blogging. She has got great aesthetic sense and I am sure she will share some wonderful home decor ideas, so stay tuned!! This is what she has to say about her blog
"

 

Colours turn me on to express myself, as do beautiful flowers and melodious music. Through this blog of mine, I shall share with my readers all things that appeal to me,all things pretty and colourful.I would put it this way,all things under the sun:-)