F

or me, it's
a whole new meaning of celebrating Diwali in my new home. The last month was like a roller-coaster ride. I was busy doing every possible thing that I could do for Diwali preparation from cleaning every corner and nook of home to decorating it with my DIYed decor accessories, from preparing sweets and dishes to making gift boxes for family and friends. And I enjoyed this hectic schedule a lot. I was on cloud nine when I heard words of appreciation. Joy and happiness on my family's face was my biggest reward and it took away all my weariness.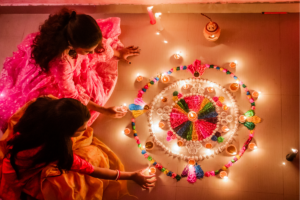 Though I couldn't find time to click all the pics when I lit all the diyas and tealights as soon as I got time I just started clicking images because I wanted to cherish these moments all my life.
Let's have a virtual tour of my home….come on in….
Disha