E

ver since the inception of

Design Decor & Disha

, it has been my endeavour to give a global platform to women entrepreneurs, women artists and women-led startups to tell their stories, exchange their ideas, get connected and help them grow their businesses. Now I'll be doing this more seriously, more frequently and with a bigger vision in mind. Soon I am launching an online marketplace exclusively for women entrepreneurs on 3D.
But for now, I am starting a new series called "
Women Power
". 
This series will be a spotlight on talented women, who have some hidden potential, work hard, try to create work-life balance, struggle at every step of life and come out as a winner and stronger than ever. We all have a wonder woman inside us and what we need is support from women like us. Women should empower each other instead of being jealous, hateful and envious of one another. So come join hands to support each other and to grow each other. To support women entrepreneurs I am doing my bit by slashing my rates 50% to feature them in my blog. Now that's a piece of good news!!! isn't it? So if you are a woman entrepreneur and need support and a global platform to grow your business then you can write to me and I'll be glad to help you.
First in this series is
Monika Gupta
, who isn't a new name here on 3D. If you have missed reading about her in my earlier blog then read it here (Inspiring Eminent Artist: Monika Gupta). She discontinued her first business "Earthenstyle" when she had her second baby and started a new initiative in personalized digital arts by the name 'Wordspalatte'. She graciously sent me a wordy that captures the true essence of 3D beautifully. I can't get enough of it and it is a perfect addition to my home office. 
Now, let Monika share all the details about her new venture "WordsPalette".
How 'WordsPalette' was born?
'WordsPalette' was born after my second child took away all the luxury of having paints and terracotta pots around me. The little one wouldn't let me paint, and so 'Earthenstyle' was discontinued. But my love for designing helped me to get into digital art space when I partnered with a Singaporean company and took up some of their designing work. Launched my designs in India under 'Wordspalette'.


We are passionate about personalized gifts.
In today's busy world of off the shelf gifts, remember the warm fuzzy feeling when you receive a gift that's made just for you…..you feel so special …. so cared for….how about gifting that special feeling to your loved ones.


We are doing three types of products currently and aiming to add at least 2 more within 3 months.
"Wordy – your words made into personalized art" –

This is by far the most popular of all the products we do. The "WORDY" ….a unique gift where we capture your thoughts about the recipient, encompass them into a shape of your choice, to create a customised keepsake/memoir. It's sure to find a place straight into their heart and on their wall/table. All shapes, colours and fonts can be customised. All creations come professionally printed and framed in a frame of your choice.
This is a perfect gift for all age groups and for all occasions
.
Suitable for corporate gifts too!
Perfect gift for newborn ceremonies, birthdays, anniversaries, festivals, farewells, and appreciations – whatever the occasion, you are sure to be remembered for getting this really special gift. 
"Its only words…and words are all I have, to take your heart away….:) "
"Personalized Children Name Pictures"

Gift a child a really special and unique gift…..his/her name made into a work of art with his favourite characters. 




Each artwork is individually illustrated so no two names will ever look the same. You can choose your favourite theme from our collection and we will then create your picture just for you. The personalised name pictures in a beautiful frame are perfectly sized to be a focal point on the wall of a child's nursery or bedroom.
Your child's name picture can further be personalised by adding a short and sweet message(up to 10 words or so) at the bottom of the illustration. This message could be special wishes or birth date etc.
Rules posters

– Setting up rules is really not that bad after all. You give us rules for your children, kitchen, bedroom, library, bathroom, canteen etc. and we will design a unique creative for you. These posters are caught in beautiful frames to look perfect on the walls.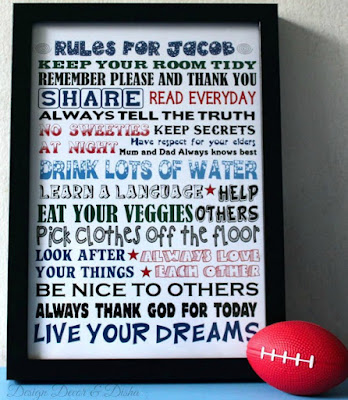 I am mighty impressed by Monika's creative work and found the idea of gifting such personalized gifts an interesting one.
If you have something in mind and want Monika to personalize something for you then you can write to her here: wordspalette@gmail.com
I wish and pray that you always succeed in whatever you do Monika.
Dear readers, coming up next is a home that is "Made With Love". Stay Tuned!!!
Disha
P.S. All the images in this article are Monika's property and subject to copyright. Please seek her permission before using them.