W
e have experienced more than our fair share of summers and now are
waiting desperately for the monsoon to arrive. With the onset of monsoon,
there is so much to witness all around superabundant outdoors, petrichor, the
soothing sound of flowing water and pleasant weather.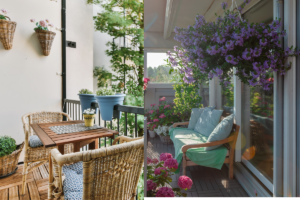 Having said that, it's not only the good that is associated with the monsoon but it also brings with it something unpleasant too. Seepage, mould, dampness, peeling paint and cracks not only make the space look ugly but also result in damage to the structure and for that, I have to prep up my outdoor space. Due to space constraints these days, we don't have the luxury to have a sprawling front or back yard instead all we have is a small outdoor space in the form of a balcony. In my view, an outdoor space if done properly can be an elegant extension of a living room. So I am not gonna like it if such an important part of my home is ruined by the monsoon and my ignorance. So here's how I have planned to tackle this problem.
First and foremost, freedom from ignorance is the key to keeping your home free from damage. We often put more stress on aesthetics while doing up any space and not on the durability and quality of the materials that are being used. Walls, roofs and open-to-sky floors are the most affected areas during monsoon. Talking about the walls first. Paint is the quickest and cheapest way to change the appearance of any place especially when your budget is low. But exterior walls are forever exposed to changing weather which can lead to damage to the home's exterior and the interior as well. I had heard that the paint on external walls only makes it look aesthetically appealing but can not save it from the bad impact of rain and heat. But a little research online gave me a ray of hope and I found the long-life paint for exterior home. This weather-coat long-life paint protects the exterior walls from all monsoon-related issues. So I am kind of sorted and thinking of getting the paint job done before the monsoon
arrives.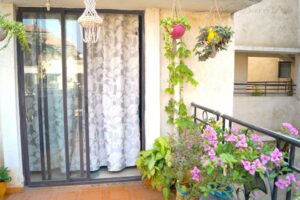 Here's a piece of advice from me as I have already faced this issue of water seepage and dampness in walls earlier too. You should plan the painting job well in advance by that I mean before the onset of the monsoon. Keep weather conditions in mind. Dry and hot weather is the best time to get the painting job done as the paint adheres well when the weather is dry. Spend money wisely and always opt for good quality paint and painting tools, as this will decide how long the paint will last on house exteriors. Most of the time I paint the walls of my home all by myself and I know it is just too much hassle moreover, I will be travelling in the first week of June, so I am tight on time and budget too. That's why I have opted for Berger's Express Painting Service. When I checked out their website for colours, oh boy!!! I was spoilt for the choice. I know that walls in bright colours help us to transform the space from dull and boring to bright and beautiful. The right paint colour can make a space look bigger and brighter, it is also a powerful tool to set the mood and theme of any space. Bold colours deliver the most drama and are in vogue. I kept scrolling down their web page and was quite impressed with the range of paint colours they have. I decided to choose the colour that complements my house's architectural design.
Next comes the floor. It is as important as the walls. It needs proper maintenance and care from time to time. Proper floor inspection should be done after every fixed period of time especially before monsoon to see if there is any damage. If the floor doesn't have a proper slope to allow water to drain off the floor then there are chances of water clogging which in turn can be a reason for tile damage.  The solution to this problem is specially formulated tile grout which works as water resistant. 
Painting walls, doors, windows and trims just don't work for me to change the look of my outdoor space I am planning to paint the outdoor furniture too. As the fresh coat of paint will give the furniture a new lease of life. Furniture in hues like teal, blue, red, lime green and bright red can add pizzazz to an otherwise dull and boring space. My outdoor space is open to the sky so I have opted for the furniture that doesn't rot in extreme weather conditions; well you have lots of choices for outdoor furniture these days. If your outdoor space isn't in an open area then don't worry at all about the weather and you can furnish your outdoor space with your choice of furniture like wicker, rattan, and wrought iron or
wooden. Folding furniture is a great spacing-saving idea. 
Next, I plan to accessorise my outdoor space in a way that it's not a hassle to move things quickly when it starts to rain. I will be creating an enchanting setting by placing some eye-catching planters with pretty ornamental plants. Maybe I will paint the planters myself in some bright and cheerful colours that go perfectly well with the colour palette of my outdoor space. As my balcony is a small space going vertical will save me a lot of space. Wooden step ladders, hanging baskets or wall-mounted plant holders are ways to add green without taking up much space. Maybe then I'll add a water body or an attractive sculpture to add a wow factor. 
Outdoor Accessories
To create a focal point, I'll place attention-grabbing accent pieces like Moroccan lamps, sea shells, watering-can serving as a vase, and some waterproof tealights to create a pulled-together cosy, warm monsoon look.
I'll complete the look by hanging some waterproof fairy lights. Nothing other than a soft warm glow of dim and twinkling lights can add a charm to any space. That's all I have on my "To-do list" to safeguard my outdoor space from the monsoon. Hope you too have found some tips and tricks.
Signing off now. See you all soon.